Have you ever wanted to transform a tired piece of furniture into something special with just a paintbrush? Painting on gold accents can give an object an extra sparkle and luster for an eye-catching finish. Here, we'll walk you through how to effectively paint gold accents onto any piece of furniture to bring it from drab to fab! These simple instructions allow you to easily make your essays look luxurious without wasting time or money.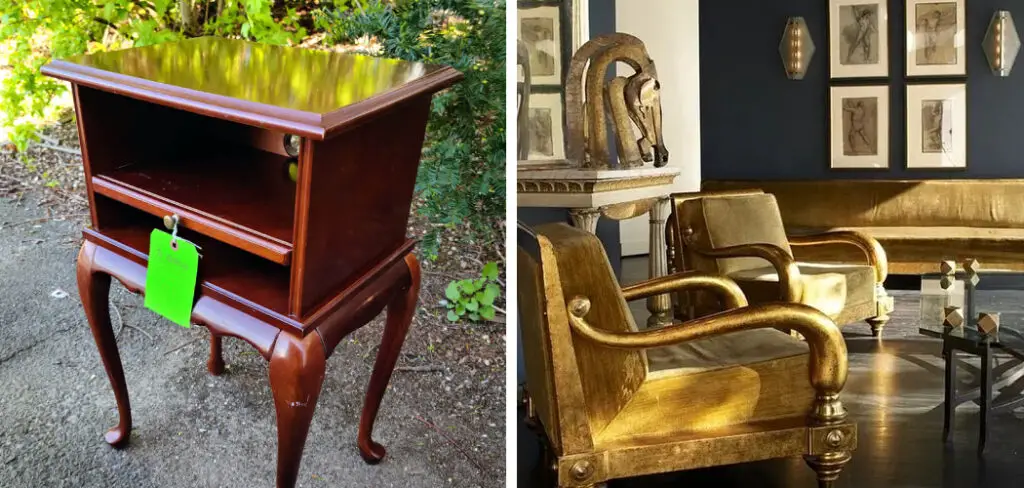 Furniture can add sparkle to any space, and giving existing furniture a fresh look is an easy way to update your home's decor. Gold accents are an ideal solution if you're looking for a dynamic accent that will stand out in any room. Whether it's a lamp base that needs an extra glimmer or a side table needing some pizzazz, painting on gold elements can take your interior design up another notch.
In this blog post, we'll give you all the steps for how to paint gold accents on furniture with ease! So keep reading to find out precisely what tools and supplies you need, as well as helpful tips and tricks so that you can have beautiful golden details in no time!
Why is Painting Gold Accents on Furniture a Great Idea?
There are many reasons why painting gold accents on furniture is a great idea. Such as:
1. To Add a Unique and Timeless Style to Any Piece of Furniture
One of the main benefits of painting gold accents on furniture is that it adds a unique and timeless style to any piece. Whether you are going for an antique, modern, or traditional look – gold is a great way to give your furniture that special something! It can also be used as an accent color to the existing paint colors in your home.
2. To Make a Piece of Furniture Stand Out
Adding gold accents to a piece of furniture is a great way to make it stand out. It can create focal points in any room, allowing you to draw attention to specific pieces and give them an extra special touch.
3. To Increase Its Value
Painting gold accents on furniture can also increase the value of a piece. Whether refinishing an antique or giving new life to an old piece, painting gold accents can help raise the value and make it more desirable for potential buyers. Also, because gold accents are so timeless, it can be a great investment for the future.
4. To Showcase Your Creative Talent
Painting gold accents on furniture is also an excellent way to showcase your creative talent. Not only will you get the satisfaction of seeing your work come to life, but you will also be able to show off the pieces you have created to your friends and family.
Overall, painting gold accents on furniture can be a great way to add a unique style, make it stand out from the rest, increase its value, and showcase your creative talent. So get creative and start experimenting with different colors and patterns; there are no limits to what you can do!
How to Paint Gold Accents on Furniture in 7 Easy Steps
Step 1: Prepare the Furniture
Before beginning any painting project, it is important to prepare the surface of your furniture. Start by wiping down the piece with a damp cloth in order to remove any dust or dirt. If there are any existing paint chips or scratches, use sandpaper for sanding away these areas lightly. Once you have finished prepping the furniture, use a dry cloth to wipe away any residue.
Step 2: Choose Your Paint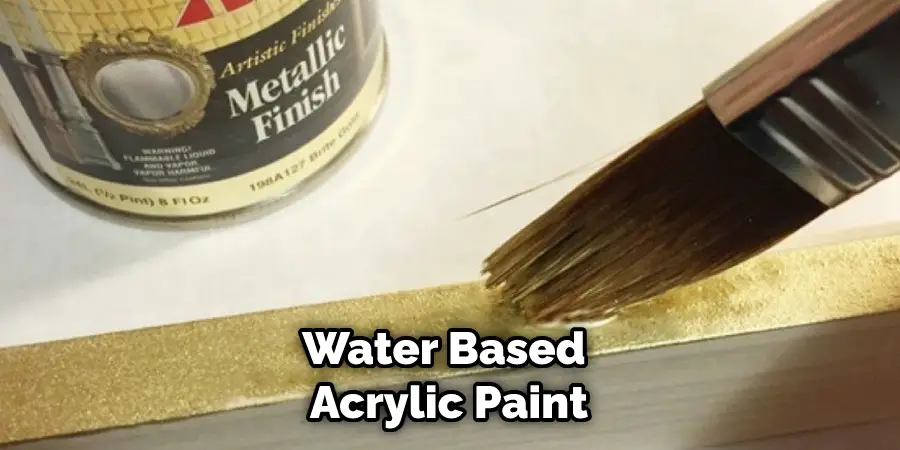 The type of paint you choose will depend on the level of shine and color saturation you want from your gold accents. For a less shiny, more matte look, opt for oil-based enamel paint in your desired shade of gold. For a bright, high-shine look, choose water-based acrylic paint.
Step 3: Prepare Your Tools
Gather all of the supplies you need for painting your furniture to avoid delays: brushes, rags, drop cloths or newspapers, painter's tape, and a small container for mixing the paint. Make sure that each brush is clean, and in good condition, as old or dirty brushes can affect the quality of your paint job.
Step 4: Apply the Paint
Use painter's tape to cover any sections of the furniture that you don't want to paint, and place a drop cloth or newspaper underneath the piece. Start by applying a thin coat of paint with a brush in an even, sweeping motion. Allow the paint to dry completely before applying a second coat if needed.
Step 5: Add Finishing Touches
Once the base layer of gold paint is completely dry, use a smaller brush for any detailed areas or designs that you want to add. You can also use metallic paints in other colors, like copper or silver, to create an interesting pattern or design.
Step 6: Seal the Paint
Once you are finished adding your accents, seal the paint with a clear coat of furniture sealer to protect it from scratches and stains. Allow the sealer to dry completely before putting your furniture back into use.
Step 7: Double Check
The very last step is to double-check that you have applied the gold accents correctly and that they look how you want them to. Once you are satisfied, your furniture is ready for use! Also, store your leftover paint properly so it can be reused in future projects.
By following these 7 simple steps, you will have beautiful gold accents on your furniture in no time! It is a great way to add some sparkle and glamour to any room of the house. Enjoy your newly decorated piece!
Some Additional Tips to Paint Gold Accents on Furniture
1. Do Not Force the Paint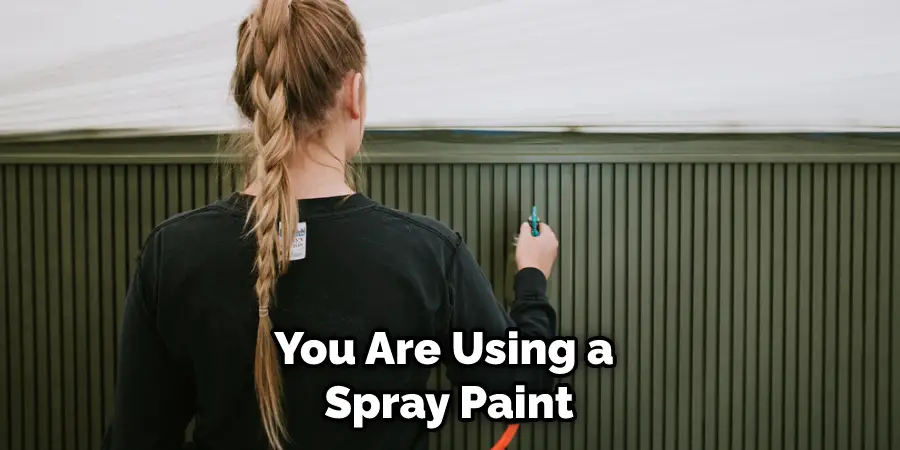 If you are using a brush to apply your gold paint, do not press too hard or overwork the surface. This can cause the piece of furniture to become damaged or for the paint to look uneven. Also, if you are using a spray paint, do not apply too much paint at once. This can cause the gold accents to look muddy and patchy.
2. Choose an Appropriate Primer
A good primer is essential when painting furniture with gold accents. You want a primer that will both adhere to the surface of the item and also provide an even foundation for the gold paint. This can sometimes be tricky as various primers are available, so it is best to do your research and consult with a professional before choosing one.
3. Apply Several Thin Coats
Gold paint is notorious for being difficult to apply in an even manner. Apply several thin coats of paint to get the most out of your gold accents. This will give you a much more even and consistent finish and will ensure that the gold accents stand out on the piece of furniture.
4. Use Professional Grade Gold Paint
In order to get the best results, use professional-grade gold paint for your project. Even though it may be more expensive, it will provide the most even and long-lasting finish. Additionally, you may want to invest in a high-quality sealant to protect the gold accents after they are applied. This will help ensure that they stay looking their best for many years to come!
Good luck with your project! With these tips in mind, you should have no trouble achieving the perfect finish.
Frequently Asked Questions
What Precautions Should I Take Before Starting?
Always check the instructions on your paint and thinner products for any safety information. It's also wise to wear protective gloves, a respirator mask, eye protection, and old clothes that you don't mind getting painted on. Make sure to work in a well-ventilated area and never use aerosol sprays near an open flame. Also, never mix different types of paint and thinner together.
How Can I Make Sure That the Gold Paint Goes on Evenly?
To ensure an even coat of paint, start by sanding and priming your surfaces to get them as smooth as possible. When painting, work in thin coats and allow each layer to dry completely before applying more. You may also want to practice a few strokes on some scrap wood before applying the paint to your furniture.
Can I Use Regular Paint Brushes and Rollers?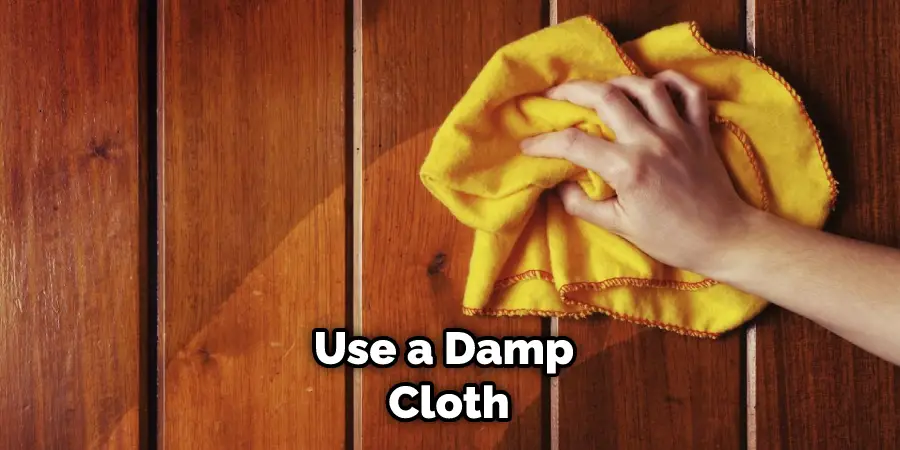 You can use regular brushes and rollers to paint gold accents on furniture. However, it is best to use high-quality brushes and rollers so that the finish looks neat and professional. Also, make sure to clean your tools after each use to prevent any paint from drying on them. Also, use a damp cloth to wipe off any excess paint that may be left on the furniture after you've finished painting.
Conclusion
Now you know how to paint gold accents on furniture! You only need a few simple tools, the right materials, and basic knowledge. With this newfound skill, you can create beautiful furniture pieces that will look stunning in any room.
To conclude, painting gold accents on your furniture is both a fun and easy task that can be completed in just a few steps. Be sure to choose the right type of gold paint, properly prepare your furniture and utilize the correct techniques when applying the paint to achieve flawless results. Take your time throughout each step of the process and refer back to this guide as necessary.