Decorating shower doors with curtains is a simple and cost-effective way to refresh the look of your bathroom. They are aesthetically pleasing, provide additional privacy, and help keep water off the floor around the shower area. Adding a curtain to your shower door is a great alternative to replacing it entirely, as this can be expensive. With just a few basic supplies, you can quickly elevate the look and feel of your bathroom with minimal effort.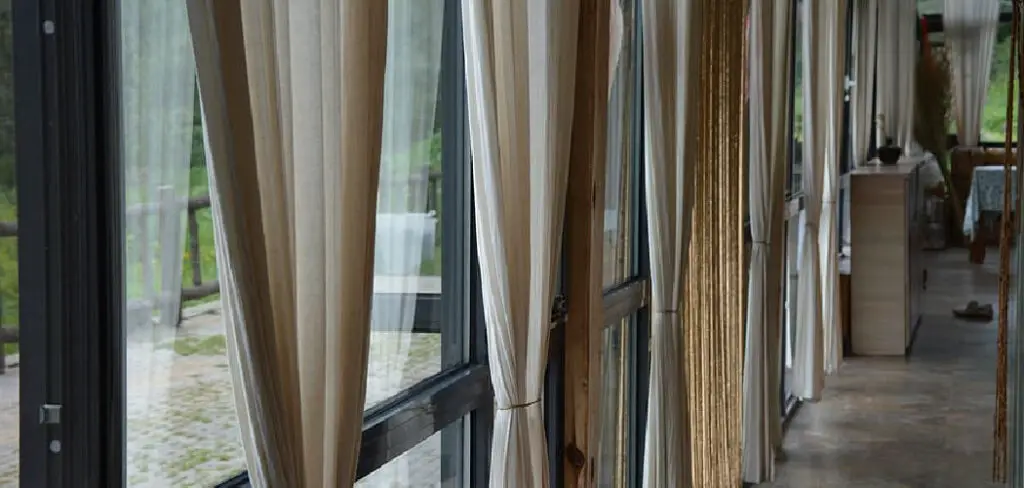 Using curtains to decorate shower doors offers a number of advantages. Firstly, it is an economical way to spruce up the look of your bathroom without having to replace any fixtures. Secondly, curtains can be easily changed if you decide to change your bathroom's theme or color scheme. Lastly, curtains offer a layer of protection against water and steam while also providing privacy inside the shower. You can find step-by-step instructions on how to decorate shower doors with curtains in this blog article.
Step by Step Processes for How to Decorate Shower Doors With Curtains
Step 1: Inspect the Shower Door
Before you begin decorating your shower door with curtains, inspect the door and its frame to determine what type of curtain rod or tension rod you will need. You'll also want to ensure that the rod size will fit on the door without any additional modifications.
Step 2: Select a Curtain Fabric
Choose a fabric for your curtain that complements the shower door and matches any other decor in your bathroom. If there is already a window covering, choose a fabric that coordinates with that. To make sure you get curtains of an appropriate size for your shower door, measure the exact height of the doorway. Also, measure from wall to wall across the top of the shower door.
Step 3: Select a Curtain Rod
Choose a curtain rod that is made from strong, durable material. Measure the width of your doorway and compare it to the size of rods available for purchase. Make sure you choose one that can support the weight of the curtains when installed properly. Depending on your choice of rod, you may need to drill holes in the wall or use a tension rod. If drilling is necessary, make sure that you have the right tools and follow instructions carefully when securing the rods in place.
Step 4: Hang Curtains
Once your rod is in place, hang the curtains from the top. Make sure they are even and check that they do not drag on the ground. If your curtains are too long, you can adjust them by hemming them up or taking off excess material at the bottom.
Step 5: Attach Curtain Rods to Shower Door
Once the curtains are hung, attach adhesive or removable hooks to the shower door. Ensure you position the hooks properly so the curtains can slide easily without snagging. To polish your newly decorated shower door, accessorize with drapery ties or curtain rings.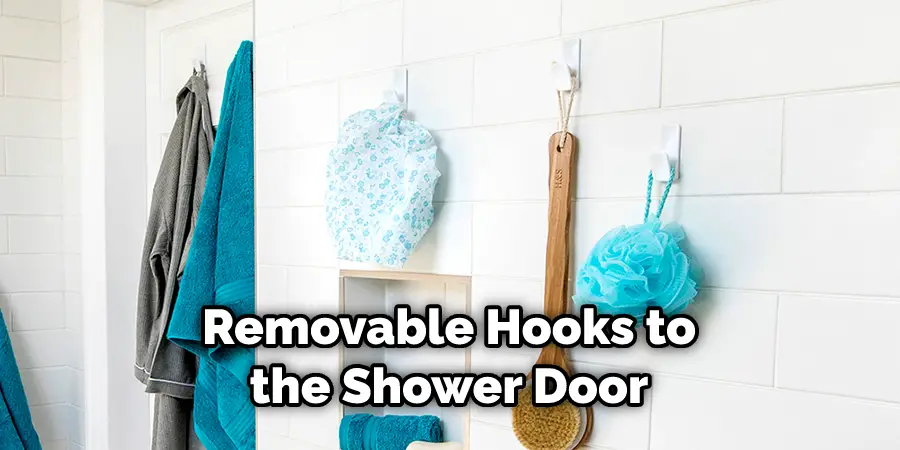 Step 6: Enjoy Your New Look
Now you can enjoy your newly decorated shower door! Have fun and experiment with different colors and fabrics to customize the look of your bathroom. With these steps, you can easily transform your boring shower door into an interesting focal point in your bathroom. With some creativity and effort, you can create a beautiful and functional look.
Precautions for How to Decorate Shower Doors With Curtains
Always use heavy-duty curtains or shower liners specifically designed for use with a shower curtain, as these are typically more resistant to damage from moisture and mold buildup.
Be sure the fabric is not too thin and can withstand the constant wetness of a bathroom environment.
Make sure to check all mounting hardware before hanging the curtain. Ensure that it is properly secured and won't come loose with regular use.
Consider using a plastic liner to protect the fabric from water damage and mildew growth, as well as keep your shower cleaner for longer periods of time.
Make sure to measure twice before cutting the material for your curtain.
When hanging the shower curtain, be sure to hang it slightly above the door frame and adjust it as necessary for a clean look.
Always follow the manufacturer's carefully when installing curtains or lin onto your shower doors. This ensures that they are hung correctly and safely so as not to cause any damage or injury.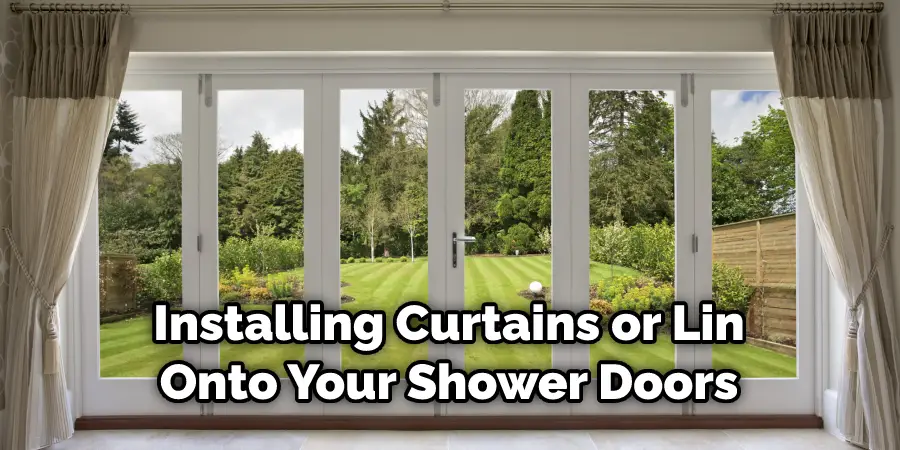 Following these simple steps will make installing a curtain or liner on your shower doors easy and safe, helping you get the perfect look for your bathroom.
What Type of Maintenance is Necessary to Keep Your Shower Curtains Looking Good? 
When it comes to decorating your shower doors with curtains, the right choice of materials and styles can make a big difference in the look of your bathroom. However, choosing the right type of material is only half the job.
You must also maintain your curtains properly once they're up on the shower doors. To keep your shower curtains looking great and lasting for a long time, you should first ensure that the curtains are completely dry before storing them away. This will help to prevent mold from forming on the fabric and give it an extra layer of protection.
You may also want to consider cleaning your curtains with water and a mild detergent every few months or so. This will help to rid the fabric of any soap scum or dirt that may have built up over time. Additionally, you can use fabric softener and a steam iron after washing to maintain its shape and look.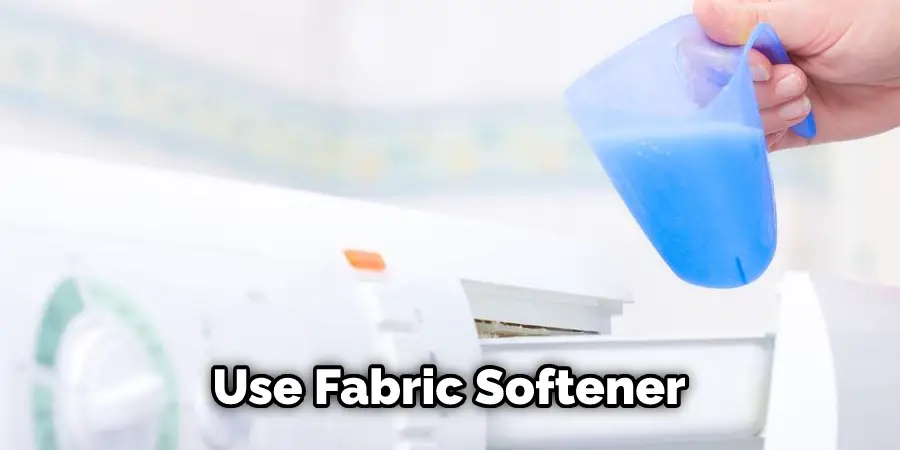 Spot cleaning with a mild detergent should be sufficient if your curtains become stained. Finally, as with most window treatments, regular vacuuming is important to keep your shower curtains looking their best. You should also check them periodically for any signs of wear or damage, such as fraying edges or fading colors.
Are There Any Special Considerations When Hanging a Curtain on a Sliding Shower Door? 
When decorating a shower door with curtains, it is important to consider the type of curtain rod and hardware that will be used. For instance, some sliding shower doors have metal tracks or rails, making hanging a traditional curtain rod difficult. In such cases, an adjustable tension rod may provide the best solution for hanging the curtain. Additionally, since many sliding door showers have metal tracks, a curtain fabric with metal grommets or hooks can also be used to hang the curtain.
In addition, if you are replacing an existing shower curtain rod and hardware, it is important to measure the distance from the wall to the inside edge of your shower door frame so that you purchase a curtain rod that is the right size. If you choose to use a tension rod, be sure to measure the space between your door frame and wall carefully so that it fits correctly.
Finally, when choosing a shower curtain fabric, consider one that is water-resistant and easy to clean. This will ensure that your shower curtain looks attractive for years to come.
What is the Best Way to Hang the Curtains for Maximum Privacy and Protection From Water Spray? 
When decorating shower doors with curtains, it is important to pay attention to how you hang them for maximum privacy and protection from water spray. The best way to do this is by using curtain rods or hanging hooks. You will want to choose a curtain rod that can be easily adjusted so that it can fit the size of your shower door. Some people prefer to have the curtains hang all the way down to the floor, while others may choose to leave a gap at the bottom, allowing additional light in.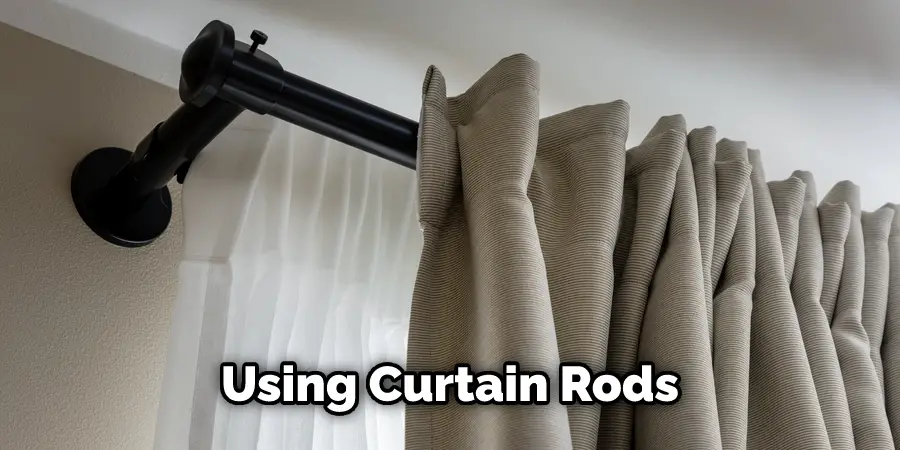 When installing curtain rods or hanging hooks, it is important to use sturdy hardware to support the curtains' weight and hold up against potential water damage. You can also consider using an expandable rod so that you don't need to drill holes in the shower door or wall. Once the curtain rods are installed, make sure you hang your curtains securely, so they won't move around when someone is in the shower. If there is a gap at the bottom, you can also install a weighted hem or tie-back to keep the curtains from blowing in the wind.
How Do You Keep Your Shower Curtain Clean and Free From Mold and Mildew? 
The most important part of decorating your shower doors with a curtain is keeping them clean and free from mold and mildew. It's important to remember that while the curtains are attractive, they can also be breeding grounds for mold and mildew if not properly cleaned. To avoid this, follow these tips:
Make sure to clean your shower curtain regularly. You can use mild detergent and warm water to do this.
If you have hard water, using a special cleaner designed for showers and baths is best.
Hang the curtain up when not in use so that it has enough time to dry out between uses.
Consider using a mildew-resistant curtain or regularly treating your curtains with mildew prevention.
Use an exhaust fan to help keep the bathroom dry and free from moisture.
Open up the windows in the bathroom, if possible, to allow for adequate ventilation and air circulation.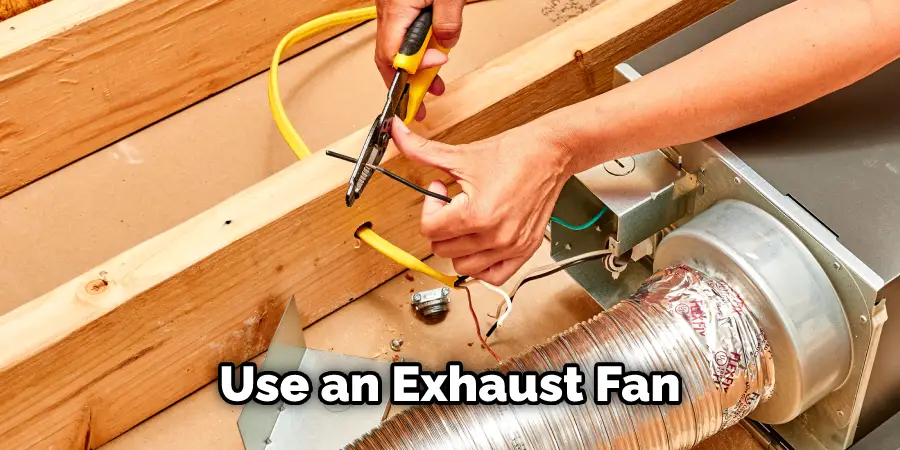 By following these tips, you can make sure that your shower curtains stay clean and free of mold and mildew. This will help keep them looking good for a longer period of time.
Is It Possible to Hang a Shower Curtain Without Damaging the Door Frame or Wall? 
Yes, it is possible to hang a shower curtain without damaging the door frame or wall. The best way to do this is with tension rods. Tension rods are easy to install and provide a secure hold for your curtains due to the tension in the metal rod itself. They don't require any holes being drilled into the walls or door frames. You can get tension rods in various sizes to fit your shower doors and curtains perfectly.
Another option is adhesive-backed hooks. These are easy to install and remove without leaving any residue on the door or wall. The adhesive should be strong enough to hold the weight of the curtain but not so strong that it will damage the surface when you take it down. No matter which way you hang your shower curtains, ensure that the rod or hook is secured properly and strong enough to support the weight of the curtain.
Conclusion
In conclusion, decorating shower doors with curtains is a great way to add color and texture to your bathroom. Not only does it give the room an interesting visual look, but it also adds some much-needed privacy. Additionally, using curtains instead of shower doors can save you money in the long run since they are much cheaper than custom-made shower doors.
To get started, start off by measuring your shower area and gathering the necessary materials. I hope this article has been beneficial for learning how to decorate shower doors with curtains. Make Sure the precautionary measures are followed chronologically.