Are you looking to spruce up your dining room with a new oval table? Maybe you already have one and want to give it some pizzazz. Either way, decorating an oval dining table can be tricky! Luckily, this blog post will provide tips on how best to arrange the furniture and decorations for maximum impact in your space.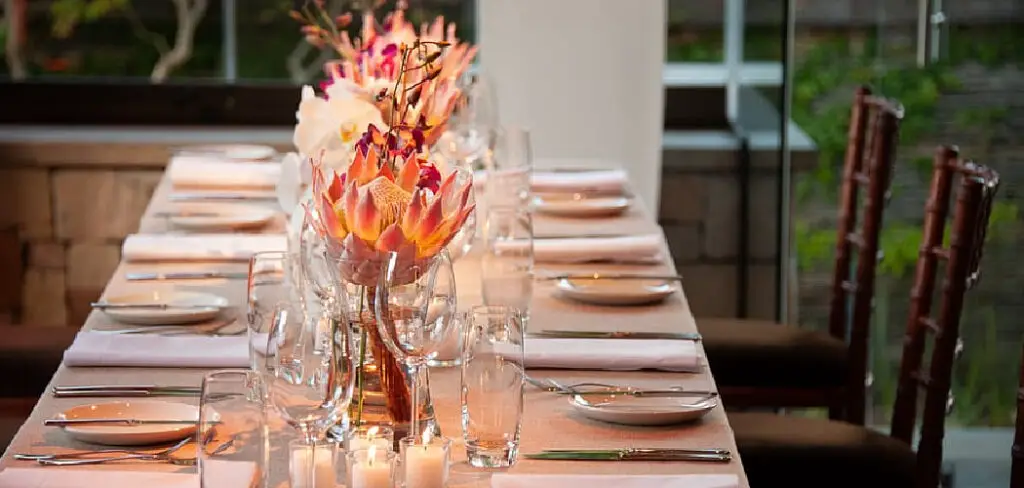 From choosing fabrics and colors to adding lighting and accessories that pull the look together, we'll guide you through all the steps of creating a beautiful complement to your home's style. So if you're ready for some great ideas on how to decorate an oval dining table, let's get started!
Is an Oval Table Practical?
When it comes to decorating an oval dining table, one of the first things to consider is whether or not this type of furniture is practical for your space. An oval table can be a great choice for smaller rooms because it takes up less floor space than a regular rectangular table. It's also useful if you want to make sure everyone is within easy conversation distance of each other.
However, it may be too large if you have a lot of people to fit around the table and need room to move around as well. Consider how much space you have in your room before deciding on an oval dining table.
Once you've determined that an oval table will work in your room, there are many ways to decorate it. You can go for a classic look by choosing furniture with clean lines and neutral colors, or opt for something more ornate if that fits your style better.
A table runner can also be used to add color and texture, while place settings and centerpieces bring a touch of personality to the table. Regardless of the decorating style you choose, an oval dining table always makes a statement in any room.
10 Methods How to Decorate an Oval Dining Table
1. Centerpiece:
An oval dining table provides ample space for a centerpiece that can be the focal point of the table. Choose a centerpiece that complements the shape and size of the table, such as a large vase of flowers, a candle arrangement, or a decorative bowl. You can also add some height to the centerpiece by using a tall candlestick or placing a small mirror underneath it.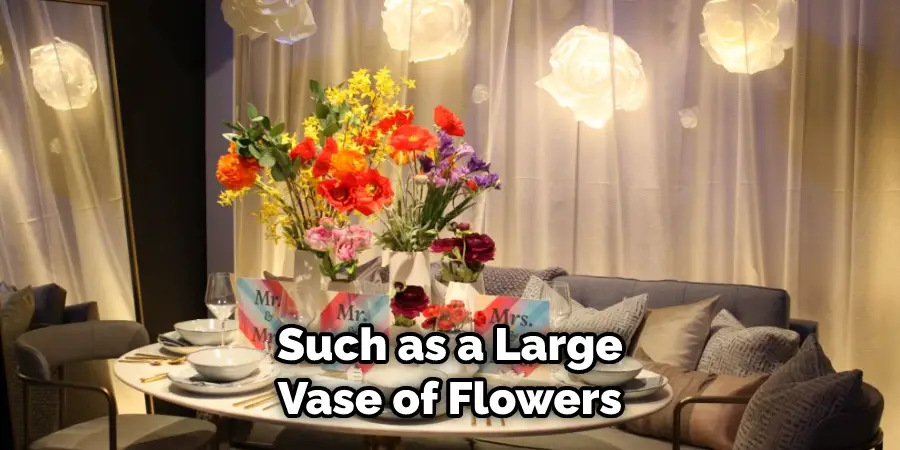 If the table is placed in the center of the room, a larger and more dramatic centerpiece will draw attention to it. While arranging your centerpiece, ensure that it doesn't obstruct any food or plates. However, if you'd like to use it for food presentation purposes, make sure that the centerpiece is at least 10 inches away from the edge of the table.
2. Table Linens:
Use table linens to add color, texture, and pattern to your oval dining table. Choose linens that complement your decor, and opt for a tablecloth that covers the entire table or a runner that runs down the center of the table. Select coordinating napkins for a complete look, and add placemats to dress up the table even more.
Also, consider adding decorative touches such as tassels or fringe to any table linens for an extra special touch. However, remember to consider your lifestyle when selecting linens – choosing materials that are easy to clean and maintain is key.
3. Tableware:
Use tableware to enhance the look of your oval dining table. Choose dishes, glasses, and flatware that complement your decor and coordinate with your table linens. If you're hosting a dinner party, consider investing in dinnerware and serving pieces that match the occasion.
To create a warm, inviting look for everyday meals, choose tableware with a more relaxed feel. While oval tables demand a certain amount of creativity when it comes to decorating, using the right dinnerware and serving pieces can really elevate the look. With a few simple touches, you'll have an oval dining table that's both beautiful and functional.
4. Lighting:
Lighting can enhance the look of your oval dining table, and there are many ways to incorporate it. Consider hanging a chandelier or pendant light above the table, or use table lamps or candles to add ambiance. To make a statement, you can also opt to hang multiple pendant lights in a row above the table.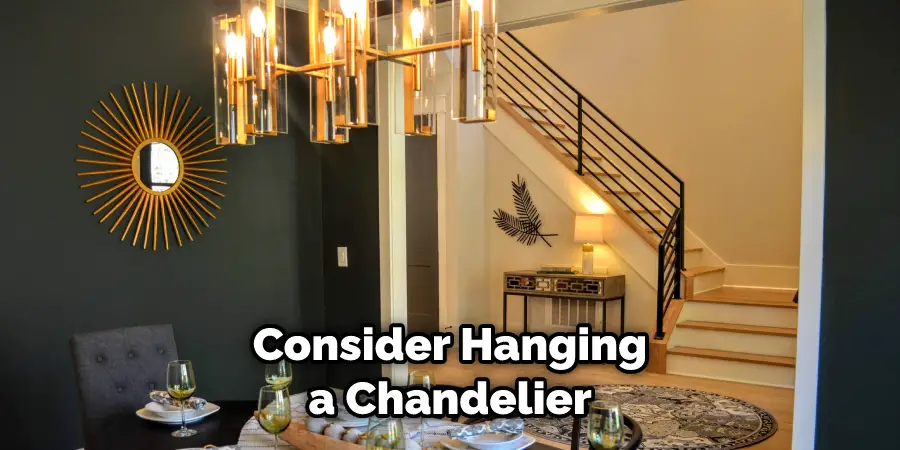 If your space does not allow for this, you can use wall sconces on either side of the table or even a floor lamp to create an intimate atmosphere. If you want to make a bold statement, try incorporating multiple layers of lighting for maximum effect. Focus on mixing warm and cool tones to create the perfect balance of lighting. Finally, don't forget to consider light fixtures that can be adjusted for different moods and activities.
5. Seating:
Choose chairs that complement the shape and style of your oval dining table. Consider upholstered chairs for added comfort or mix-and-match chairs for a more eclectic look. For a classic look, consider dining chairs with vertically slatted backs.
When choosing a seating arrangement, keep in mind that there should be at least 24 inches of space between each chair and about 36 inches of space for a walkway. Although an oval dining table provides a warm and welcoming atmosphere, ensure that your chairs provide enough space for guests to move around the table comfortably.
6. Accessories:
Use accessories to add personality and style to your oval dining table. Consider adding decorative objects, such as sculptures or figurines, or using decorative plates or chargers to add texture and color. Place tall candles in the center of the table, or use a centerpiece to make your dining area festive.
For a bit of greenery, add plants to either side of the table, or place a flower arrangement in the center. Use these tips to help enhance the style and visual appeal of your oval dining table. To complete the look, pick up some coordinating fabric napkins to add a touch of elegance. With these ideas, you can create a stunning display that will make your oval dining table the center of attention.
7. Artwork:
Consider hanging artwork above your oval dining table to add visual interest and complement the decor of the room. Choose artwork that is the right size and scale for the space, and that complements the color and style of your oval dining table. Another option is to hang a single large piece of artwork that will be the focal point of your dining room.
Don't forget to include lighting that will allow you to admire your artwork in the evening!  If you are looking for a more subtle addition, think about adding a large mirror or framed photos to the wall above your dining table.  This will create an inviting atmosphere and can help to make the room feel larger. Just be sure to hang the art at the appropriate height so that it does not interfere with conversation or sight lines. 
8. Rug:
Adding a rug under your oval dining table can create a sense of warmth and intimacy in the room. Choose a rug that complements the size and shape of your table, and that coordinates with your decor. Make sure the rug is large enough to extend beyond the table so that all chairs fit comfortably on it.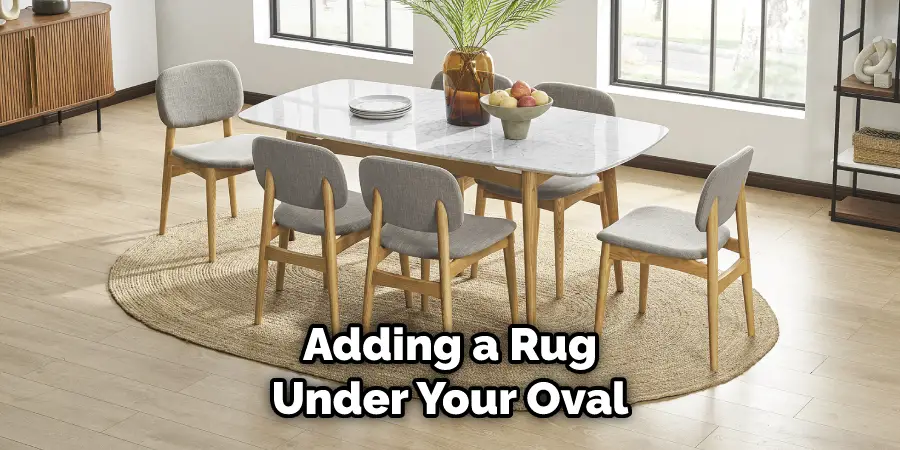 Try layering a smaller rug over a larger one for an even more dynamic look. Finally, consider adding a rug pad underneath the rug to reduce wear and tear and make vacuuming easier. While an oval dining table and rug could be a great combination, make sure the two don't compete with one another – look for rugs that will enhance the overall look of your dining room.
9. Wall Decor:
Consider adding wall decors, such as mirrors or artwork, around your oval dining table to create a cohesive look in the room. Choose pieces that complement the style and color of your table and that create a sense of balance and harmony in the space. When arranging items, remember to keep the pieces within a certain height range so that it does not appear too cluttered when viewed from the dining table.
Also, make sure to leave enough wall space for guests to move around without feeling cramped. When done correctly, the wall decor will bring the finished look together and create a welcoming space for all to enjoy. However, if the room is already cluttered, it may be best to consider other options.
10. Seasonal Decor:
Change up the decor on your oval dining table with the seasons to add interest and variety. Use seasonal colors, such as orange and brown for fall or green and red for the holidays, to add a festive touch to your table. You can also add natural elements, such as pumpkins or pinecones for fall or a bowl of cranberries and evergreen branches for the winter.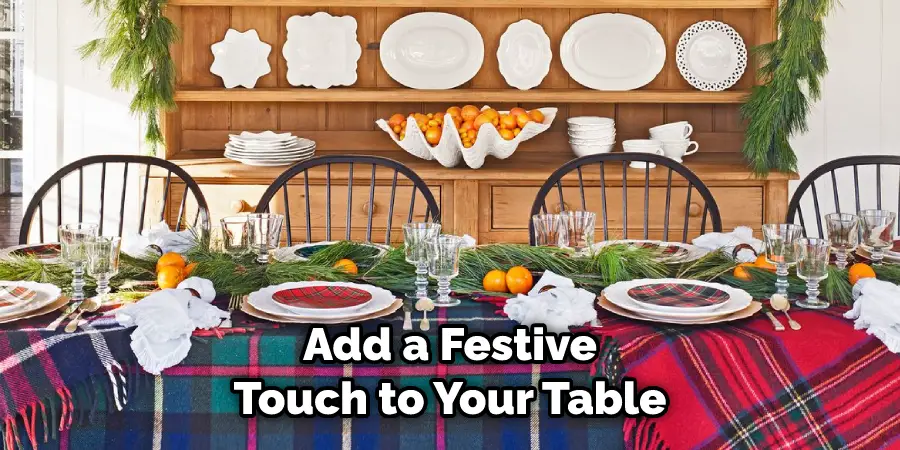 In the summer, use bright and cheerful colors such as yellow and blue to create a summery atmosphere in your dining room. Place beach-inspired pieces, such as colorful starfish, or sea-themed accessories, like a coral bowl of shells, to bring a touch of the beach to your table. For spring, add bright colors such as pink and yellow with a centerpiece of fresh flowers to express the joy of the season.
Things to Consider When Decorating an Oval Dining Table
1. Consider the Size of the Room:
An oval dining table works best in a larger space, as it will take up more room than a round or rectangular table. Measure the space where you plan to put the table and choose one that fits comfortably in your room.
2. Think About How Many People You Plan To Seat:
An oval dining table can be extended or shortened depending on how many people you plan to sit at it. Consider this carefully when choosing a table to ensure you have the right size for your needs.
3. Choose an Appropriate Color or Material:
If you plan to paint your oval dining table, make sure to choose a color that matches the rest of your decor. If you're buying a new table, pick one made of wood or metal that will fit in with the rest of your furniture.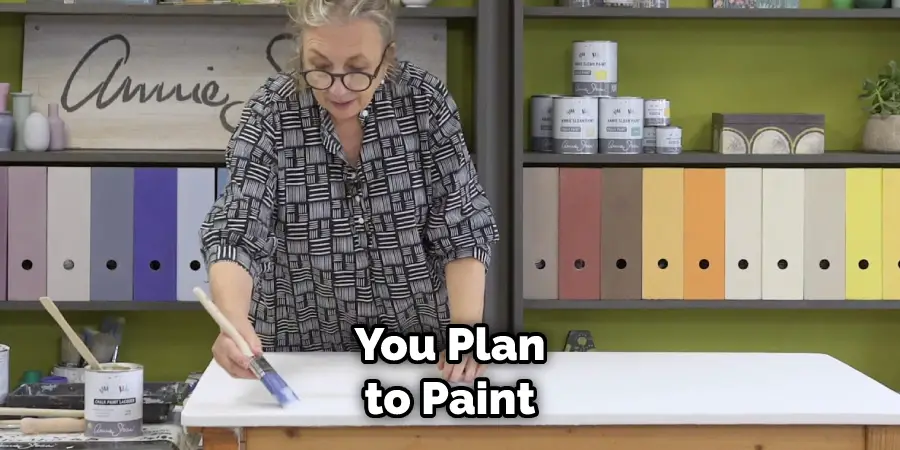 4. Consider How to Accessorize:
Once you have chosen a table, it's time to accessorize it. Use placemats and a tablecloth to add color and texture to the table. Place centerpieces, such as flower arrangements or candles, on the table for added visual interest.
Common Mistakes to Avoid When Decorating an Over Dining Table
1. Overloading the Table:
When decorating an oval dining table, one common mistake people make is to overdo it with decorations. This can be overwhelming and make the table look cluttered and haphazard. A good rule of thumb is to use two or three main items, such as a centerpiece, placemats or a runner, and then add smaller accents like flower arrangements or candles.
2. Not Considering Table Height: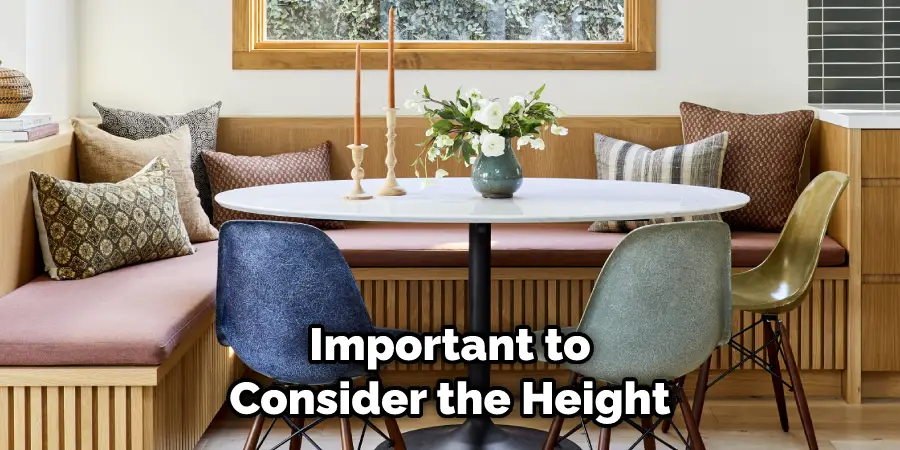 When decorating an oval dining table, it's important to consider the height of the table and make sure that the decorations don't overpower or obscure its unique characteristics. For example, instead of placing large floral arrangements on top of a low-hanging table, try using smaller pieces like candles or tea lights instead.
3. Not Incorporating Color:
When decorating an oval dining table, one mistake people often make is to use the same color scheme throughout. This can make the table look dull and uninteresting. Instead, try incorporating different colors or textures into your decor scheme to add a bit of visual interest.
Conclusion
Placing a well-designed oval dining table in the heart of your home is a great way to make a bold style statement and start conversations. Not only do they look great, but they also provide an additional level of comfort for dinner guests.
Whether it's for hosting dinner parties or simply enjoying meals with family and friends, your unique oval dining table will be sure to be the centerpiece of the room.
So don't be overwhelmed by the task ahead – armed with these creative decorating tips, you can now easily transform your oval dining table into its most stylish form yet. Now that you know how to decorate an oval dining table, what are you waiting for? Get started designing it today!